There are two types of KURALON for papers. One is a matrix fiver that constitutes the main component of paper, the other is a binder fiber that is dissolved during the papermaking process and functions as an adhesive. Excellent adhesive characteristics of the binder fiber contribute to the advantages of KURALON as shown below.

As binder fiber and matrix fiber are both KURALON, they are compatible with each other, create a strong paper. Please take a look at the chart below. Compared with cotton 100% papers, you can see that papers added with KURALON show longer breaking length, tensile and tear strength.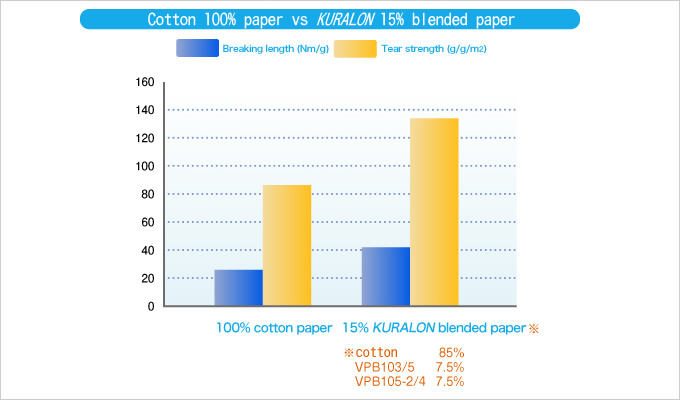 ※Measured by Kuraray


KURALON binder is an adhesive in a fiber form. When it is subjected to moisture, heat and pressing pressure during the paper-making process, it dissolves and forms a film between matrix fibers, acting as an adhesive to bond the fibers together. It can be used not only for organic fibers, such as pulp and rayon, but also for inorganic fibers, such as glass fiber and carbon fiber. An example showing its binding effect on glass fiber is given below.
[Paper composition]
Glass fiber 90%, KURALON binder fiber 10%
※KURALON binder fiber is dyed in iodine solution to make it easy to recognize.
You can see that the KURALON binder fiber dissolves between glass fibers and forms a film that can keep glass fibers from separating.