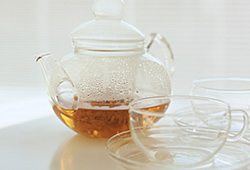 Why is polyester paper used?
Polyester retains its strength even when it is wet. Tea bags that are used by dipping in hot water can maintain its strength with the use of polyester fibers.
Kuraray offers fibers in a variety of fineness ranging from 3 dtex to ultra fine 0.35 dtex. This wide range of size lineup makes it possible to make fine adjustment of mesh for teabags according to the size of tea leaves you wish to infuse.